Cheesecake Cupcakes, Z(ucchini) Apple Pie, Bread, and Butter Pickles, Creamed Corn, and How to Grown Strawberries are this week's featured posts.
Hello and Welcome!
We are ending our full-time camp hosting with the month of August, and going part-time for the month of September before calling it a day! We were happy to help by staying on a bit longer (we had thought 08/19/2020 would be our last day) to be available for those late-season campers. A reduced schedule is coming about in just the right amount of time because we have fall work needing to be done on our property and a heat source to install in our little apartment. Our first winter in Montana was chilly and we had only a small electric heater for comfort!
We have also been busy learning about all the local critters at Lake Como. This is a Richardson Ground Squirrel. They eat constantly getting chubby and storing body fat in preparation for hibernation. They have been such fun to observe. They do love sliced carrots, but I think their true favorite was the dried corn we offered daily! They can go into hibernation as early as July, but we had the pleasure of seeing them, and treating them to good eats up until a week ago.
We have observed the lake level change, the seasons of rain into dry summer heat, and the wonderful little critters in search of food for their long winter ahead. Being so close to nature, it has been a calming slow down of my own schedule. I love how living close to the land helps keep us in synch with the seasons of the year and in a more indirect way, our own lives...
And now, for This Week's Encouraging Hearts & Home Blog Hop!
Join your Encouraging Hearts & Home Co-Hosts each week for encouragement and support for your heart & your home. We hope to provide a space that builds each other up and lends a helping hand along the way. With all the negativity in the world, let's shine a positive light!
And me, Scratch Made Food! & DIY Homemade Household.
The post with the most views from last week:
A few of my favorites from last week are:
"Z" Apple Pie! A delicious mock apple pie made with zucchini in place of apples!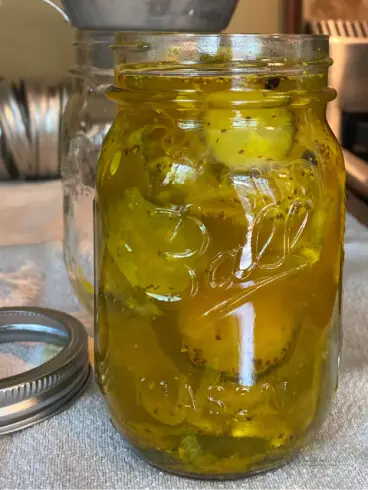 Creamed Corn Pasta. I must confess I love a good double carb side dish, this one is on my list to make. Plus the ingredients are common pantry supplies...
How to grow strawberries, everything you need to know! I really hope to master this task, strawberries have not been my best test as a gardener...
Use the form below to share your family-friendly posts this week, and please consider these nice things you can do:
Follow and/or subscribe to your host's blog.

Visit a few other bloggers and show them your support. We all love getting comments, and who knows what inspiration you may find? Be sure to share the love--that's what a blog hop is all about!

Check out our Encouraging Hearts & Home Pinterest board where each host pins her 10 favorite posts each week.

Join us every Thursday!

If you are interested in co-hosting, contact Linda at Apron Strings & Other Things!
You are invited to the Inlinkz link party!